Nearly half (46%) of the UK's e-commerce transactions now come from mobile. We know apps outperform mobile websites in conversion rate, engagement and average order value. But retailers often ask: are enough shoppers going to download our app?
We previously wrote a post about why shoppers download apps. This time we took a snapshot of statistics across Poq-powered apps and found out when they download apps.
Downloads peak on Sundays
Sundays see over third more downloads than the average day. Coupled with research around app browsing times that shows us that apps see the highest traffic on Sundays, this shows that Sundays are generally the day that customers like to spend the most time downloading and engaging with apps.
Monday is the strongest working day for installs
After Sundays, Mondays have the highest average amount of downloads.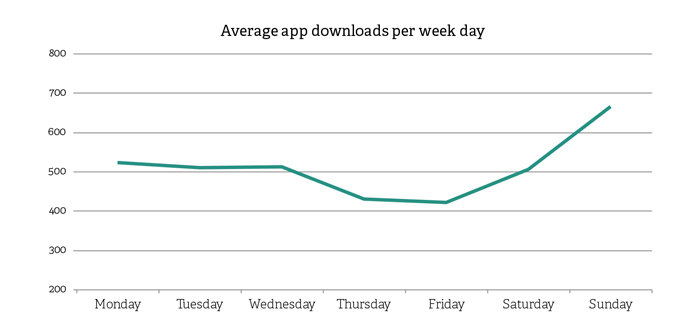 Fridays are slow but fruitful
App adoption reaches its lowest point on Fridays, which see 16% fewer downloads than the average day. Considering that Fridays generally show the highest conversion rates of the week, this shows us that shoppers aren't too interested in finding new apps on Fridays – they'd rather shop on the ones they already have installed on their mobile.
When should I start my app download campaign?
Retailers looking to launch an app install campaign should do so on a Saturday when downloads are around average. This will allow for the campaign to get started before downloads pick up and reach their peak on Sundays. Learnings from Saturday, Sunday and Monday can then be applied to improve the campaign for the next week. Re-engage your new app audience on the Friday after the campaign launch, when the willingness to spend is highest.
Webinar: Increase your app audience
If you'd like to know more about how to drive app downloads, watch our webinar with leading mobile marketing software company Tune. Just enter your details below to watch.