Black Friday and Cyber Monday are almost upon us. Whether you've decided to run promotions throughout the whole week or are holding out until the actual days, there's still time to take a few simple steps to maximise your app commerce results. We've put together three tips that are quick and easy to implement, and will help your customers make the most out of mobile shopping.
1. Promote the wishlist
Wishlists are used by bargain hunters: customers who look at their wishlist are 1.8 times more likely to make a purchase, but generally spend around 5% less, than the average shopper. Reminding customers to add items to their wishlist will help them make purchases faster once discounts kick in, and increase the probability that they will make a purchase. You can promote wishlist use in multiple ways: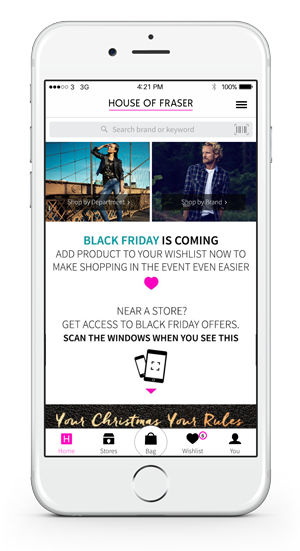 In the app: Introduce a product category that features items you would like to encourage bargain hunters to add to their wishlist. Promote this using a banner on the home screen. Additionally, promote the wishlist in the app's home screen by introducing a banner for it.
Communication: Feature an App Wishlist Edit in your email communication, including popular items that your app users have added to their wishlist. This can also include items or brands that are searched regularly in your apps. It will raise awareness of the wishlist and also elevate urgency to purchase the items listed.
2. Run a paid app install campaign
The winter months represent the highest level of app store activity (read more about this on Mobile Commerce Daily). Make sure your customers know that you have an app. A very effective way of doing so is by running Facebook or Instagram app install campaigns. Set the campaigns to target people who fit your target demographic and who are already fans of your page. Coupled with an exclusive promotion code, your campaign ROI will skyrocket.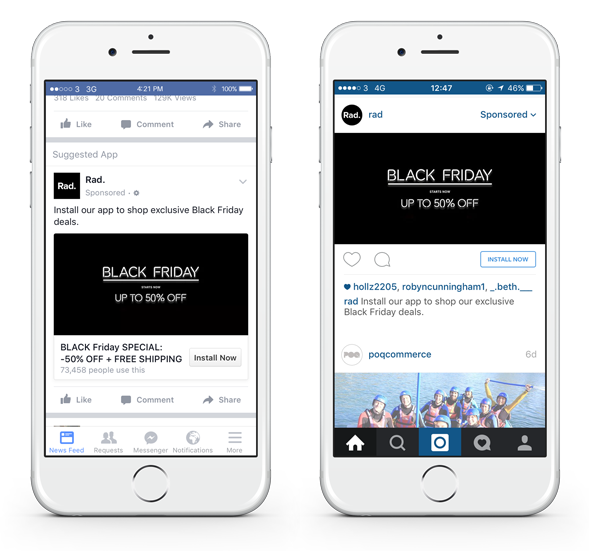 3. Schedule push notifications
Push notifications are great for driving traffic to apps. Your customers will be grateful to receive them, especially when the notifications allow them to react to time-limited promotions instantly. Send them to increase urgency and remind shoppers to use your app instead of other apps. There are some things you should consider when timing push notifications for Black Friday: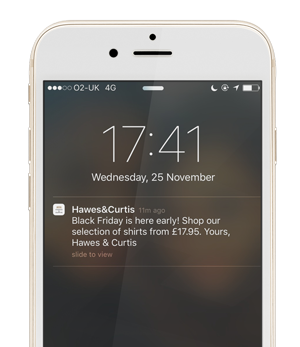 Timing: We recommend sending a Black Friday push notification between 6:30 am and 8:00 am. As we expect app traffic and revenue to be lower towards the end of the day, we also suggest you send another push notification later in the evening to bring these levels up – between 4:00 pm and 7:00 pm.
Content: Make it short and sweet – use around 65 characters. To make the message more enticing, send out 'app exclusive' promotion codes that will work on top of your Black Friday promotions, e.g. free shipping.
Read more about push notification success during peak trading
To find out more about how we predict Black Friday to pan out for mobile shoppers, check out our Black Friday predictions, based on last year's statistics.